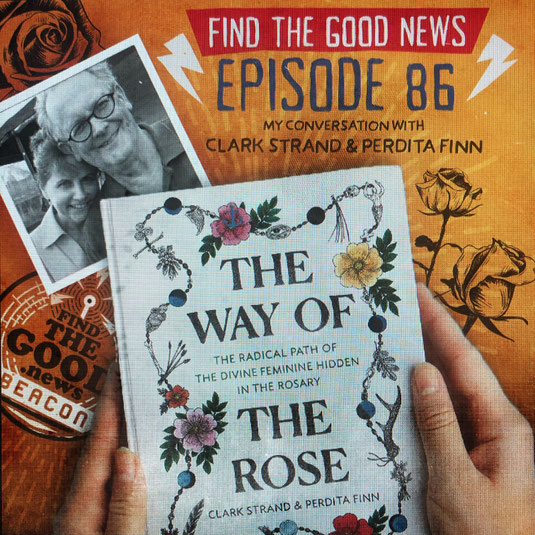 After completing the book The Way of the Rose: The Radical Path of the Divine Feminine Hidden in the Rosary, I was prompted to reach out to co-authors Clark Strand & Perdita Finn. They graciously agreed to visit with me on Find the Good News.
The Way of the Rose is impactful. I feel deeply that the conversation between Clark, Perdita, and I is a wonderful complement to the good work they are doing through this wonderful book.
_ _ _ _ _ _ _ _ _ _ _
ABOUT THE BOOK
What happens when a former Zen Buddhist monk and his feminist wife experience an apparition of the Virgin Mary?
When a vision of a mysterious "Lady" invited Clark Strand and Perdita Finn to pray the rosary, not only were they disinterested in becoming Catholic, they were finished with institutional religion altogether. Their main spiritual concerns were the fate of the planet and the future of their children and grandchildren in an age of ecological collapse. But this Lady barely even referred to the Church and its proscriptions. She spoke of the miraculous power of the rosary to transform lives and heal the planet, revealing the secrets she had hidden within the rosary's prayers and mysteries—secrets of a past age when forests were the only cathedrals and people wove "rose garlands" for a Mother whose loving presence was as close as the ground beneath their feet. She told Strand and Finn:
The rosary is My body,
and My body is the body of the world.
Your body is one with that body.
What cause could there be for fear?
Weaving together their own remarkable story of how they came to the rosary, their discoveries about the eco-feminist wisdom at the heart of this ancient devotion, and the life-changing revelations of the Lady herself, the authors reveal an ancestral path—available to everyone, religious or not—that returns us to the powerful healing rhythms of the natural world.
_ _ _ _ _ _ _ _ _ _ _
This will be episode 86 titled The Divine Feminine and it launches at 3:33am, Wednesday, May 27th on all major podcast platforms, listening apps, and YouTube.
Make sure to subscribe to Find the Good News through your favorite podcast app today, or follow Find the Good News on Facebook, Twitter, and Instagram to receive regular updates!
You can help me keep the good new signal strong by becoming an Early Riser Patreon supporter.
-Brother Oran Parker
_ _ _ _ _ _ _ _ _ _ _
If you would like to purchase a copy of The Way of the Rose,
I suggest getting your copy from BookShop.org or ThriftBooks.com