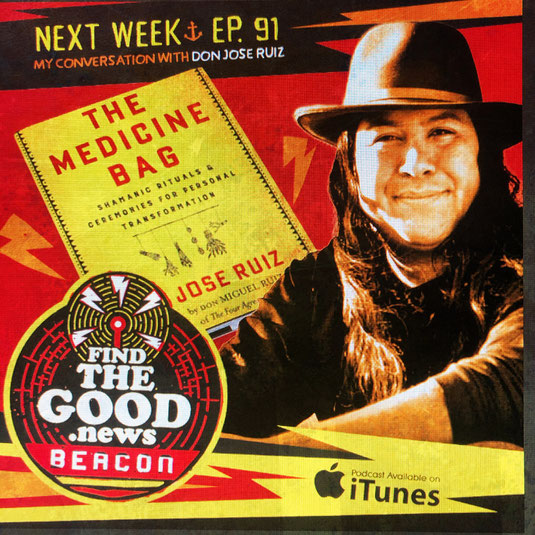 I consider many of the books I've read to be pivotal, containing teachings and lessons that feel like coming home. I was only halfway through The Medicine Bag: Shamanic Rituals for Personal Transformation when I had this exact experience. It was like the wisdom inside was living and breathing, and before I could finish inhaling the work I had contacted Hierophant Publishing to see about connecting with don Jose Ruiz, a shaman in the Toltec traditions and author of The Fifth Agreement: A Practical Guide to Self Mastery. 
don Jose's works have a fluidity that seems fused with vital spirit, so it is no surprise that he has become a highly sought after spiritual teacher and speaker. I was honored that he took time to share a very personal space with me so I can transmit the good news of his work to you.
don Jose and I had instant kismet, and shared intimate details that only served to deepen the connection and invigorate our conversation.
The wisdom and kindness he shares has been of high-value to me and helped me expand and refine the sincerity of my spiritual life. We spoke as true brothers, and I feel blessed to be able to gift this visit with don Jose Ruiz to the world.
---
---
THE MEDICINE BAG
One of the main tenets of shamanism is a belief in the power of ceremony to manifest change in the physical world. Virtually all shamanic traditions use a variety of ritual practices as tools for personal transformation, healing, and celebration.
Now, in this exciting and practical book, Toltec shaman and New York Times best-selling author don Jose Ruiz introduces and explains a wealth of these shamanic rituals and ceremonies, and provides a detailed and accessible guide to performing them on your own.
This book will teach you how to::: Choose and create power objects Build a personal altar and medicine wheel Align your life with the cycles of nature Find and work with your spirit animals Honor your ancestors, undertake power journeys, and much more Like the medicine bag itself, this book is a potent tool kit of spiritual practices meant to open you to a world of beauty, exploration, and transformation. By offering step-by-step instructions in each chapter, don Jose Ruiz has made these rituals and ceremonies accessible to everyone who feels called to travel the shamanic path.
---
---
DON JOSE RUIZ
don Jose Ruiz was born in Mexico City, Mexico and was raised in Tijuana, Mexico. When he was 21 he came to live in the U.S. with his father, don Miguel Ruiz. From a very young age don Jose was guided by many teachers present in his life including, his mother and father, his grandmother Sarita, and several other Naguals. Through masterful guidance by his teachers and amazing life experiences with precision synchronicity, Jose came to 'silent knowledge'; he witnessed the world as it is, without any story. In his early twenties, don Jose lost his eyesight. In his process of surrendering, he learned the value of learning to listen; to listen to his inner wisdom and integrity and to see different perspectives, while knowing nothing is personal. He had a renewed love and gratitude for life ~ and he found acceptance, happiness and abundance; he found bliss. He grasped a true understanding of faith, love, gratitude and humility. Through his surrender and faith, in concert with modern medicine Jose recovered his eyesight.
Like his father, combining new insights with ancient wisdom, don Jose Ruiz is dedicating his life to sharing the ancient Toltec wisdom by translating it into practical, everyday life concepts that promote transformation through truth, love and common sense. don Jose teaches and lectures across the United States and around the world: Power Journeys to the pyramids of Teotihuacan, Palenque, Tulum and Coba; workshops with guest don Miguel or other teachers at Omega ­ NY, Austin, and Vancouver.
don Jose Ruiz has now collaborated with his father don Miguel Ruiz on a new book that offers a fresh perspective on the Four Agreements, and a powerful new agreement for transforming our lives into our personal heaven: The Fifth Agreement.
---
---
Make sure to subscribe to Find the Good News through your favorite podcast app today, or follow Find the Good News on Facebook, Twitter, and Instagram to receive regular updates!
You can help me keep the good new signal strong by becoming an Early Riser Patreon supporter.
-Brother Oran Parker