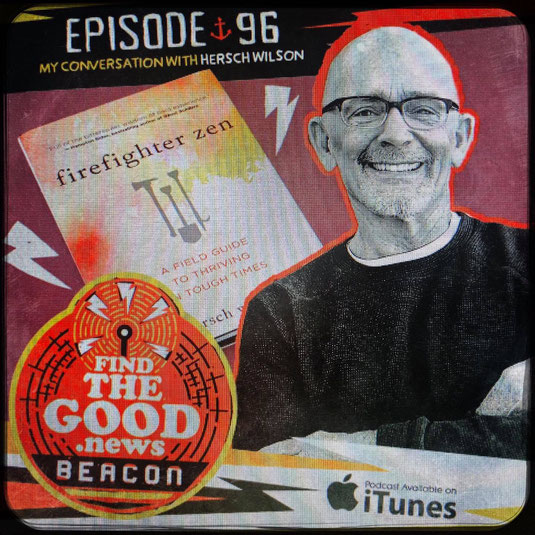 It's a fascinating thing, really, to speak deeply with a guest and adopt, or understand, their worldview for the duration of these talks.
I take the things we discuss seriously, and I'm always looking for something applicable and relevant that I can put to work in my very ordinary life.
When I visited with Hersch Wilson, author of the new book "Firefighter Zen: A Field Guide To Thriving In Tough Times," I had no idea that only a week after our conversation I would be asked to put everything in our talk, and his book, to the test.
You see, Hersch's book is all about finding meaning, resilience, hope, and your personal metal during the difficult days that are sure to come, moments when everything you've trusted in crumbles before your eyes.
Hersch, who has been a firefighter since 1986, calls these moments of discord and disruption "the glitch."
On August 27th, only 9 days after our conversation, Hurricane Laura barreled through Southwest Louisiana, and I—along with all the citizens of our region—got to experience the glitch first hand.
---
---
FIREFIGHTER ZEN
"Be brave. Be kind. Fight fires." That's the motto of firefighters, like Hersch Wilson, who spend their lives walking toward, rather than away from, danger and suffering. As in Zen practice, firefighters are trained to be fully in the moment and present to each heartbeat, each life at hand. In this unique collection of true stories and practical wisdom, Wilson shares the Zen-like techniques that allow people like him to stay grounded while navigating danger, comforting others, and coping with their personal response to each crisis. Every life contains the unexpected and the unwelcome. How you cope with those inevitable events, more than the events themselves, defines the quality of your life. Firefighter Zen is an invaluable guide to meeting every day with your best calm, resilient, and optimistic self.
---
---
HERSCH WILSON
Hersch Wilson is a thirty-year veteran volunteer Firefighter-EMT with the Hondo Fire Department in Santa Fe County, New Mexico. As a story-teller, he is committed to explaining how First Responding can change how we see and experience our own lives. He is also a writer, speaker, and consultant. In the past twenty-five years, Hersch has worked extensively with leadership teams from a variety of organizations including Kodak, IBM Japan, Altria, The United States Postal Service, the CIA, Kraft Foods and Baxter Healthcare to name a few. He has co-written three national business best sellers with Larry Wilson, including the award winning, "Playing to Win!: Choosing Growth Over Fear in Work and in Life."
Hersch attended Colorado College, quit his junior year to follow his passion, dance. He performed in Canada, Switzerland, and the United States. After that career ended, he graduated with a BA in English from the University of Minnesota. He has also worked as a commercial pilot and a soccer coach.
Hersch and his ex-firefighter wife, Laurie, have two daughters, Brynne and Sully and one granddaughter, Fiona Scout. They have a house full of dogs, with two large Bernese Mountain Dogs, Nellie and Tank, and one rescue terrier-chihuahua named Maisie. Hersch writes a monthly column on dogs for The Santa Fe New Mexican.
---
---
Make sure to subscribe to Find the Good News through your favorite podcast app today, or follow Find the Good News on Facebook, Twitter, and Instagram to receive regular updates!
You can help me keep the good new signal strong by becoming an Early Riser Patreon supporter.
-Brother Oran Parker