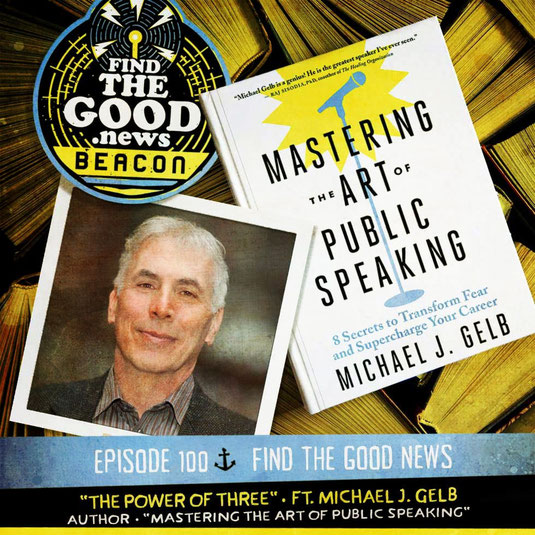 In Michael's latest book, "Mastering the Art of Public Speaking: 8 Secrets to Transform Fear and Supercharge Your Career," he cuts right into the heart of fear itself, offering advice, perspectives, and practical thought exercises to help transmute the energies of fear and anxiety.
The reality is that life is relationship, and with relationship comes communication.
Good communication, free from fear and anxiety, crafted to serve the common good of all beings, is a good work.
I believe that serving the common good is the tie that binds across the expanse of Michael Gelb's body of work.
Just looking at the titles of his books you'll find words like creativity, connection, healing, innovation, thinking, mastering, power, learning, discovery, and genius.
When a being chooses to point all of these faculties at the well being of others, goodness blooms.
---
---
MASTERING THE ART OF PUBLIC SPEAKING 
Seventy-four percent of Americans suffer from glossophobia, the fear of public speaking. In fact, even top professional speakers and accomplished actors experience butterflies before presenting. They never eliminate the butterflies; they just teach them how to fly in formation. How? Michael Gelb's techniques will help you clarify and shape your message so that your audience — no matter how big or small, in person or virtual — will care about it. Once the message is clear, he teaches you how to convey it in memorable, creative, and effective ways. Gelb shows that public speaking is a skill anyone can learn and enjoy. Mastering the Art of Public Speaking will guide you to rediscover your natural gift for communication while strengthening confidence and presence.
---
---
MICHAEL J. GELB
Michael J. Gelb is the world's leading authority on the application of genius thinking to personal and organizational development. He is a pioneer in the fields of creative thinking, accelerated learning, and innovative leadership. Gelb leads seminars for organizations such as DuPont, Merck, Microsoft, Nike, Roche and YPO. He brings more than 35 years of experience as a professional speaker, seminar leader and organizational consultant to his diverse, international clientele.
---
---
Make sure to subscribe to Find the Good News through your favorite podcast app today, or follow Find the Good News on Facebook, Twitter, and Instagram to receive regular updates!
You can help me keep the good new signal strong by becoming an Early Riser Patreon supporter.
-Brother Oran Parker