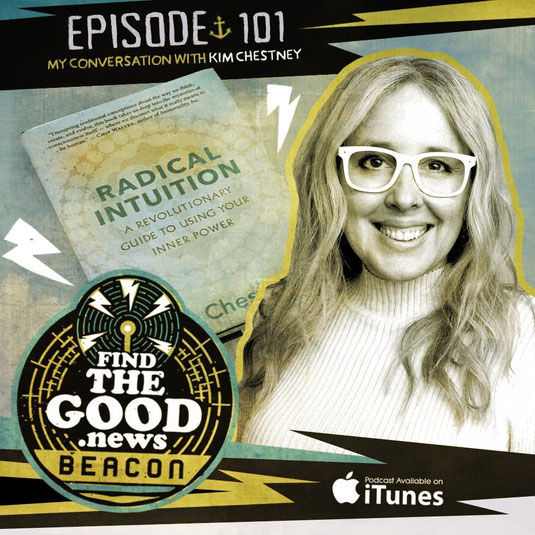 Kim Chestney, my guest on Find the Good News and author of the new book, "Radical Intuition: A Revolutionary Guide to Using Your Inner Power," has made accessing and utilizing this inner knowing her life's work.
I sincerely love the matter-of-fact way Kim approaches the topic of personal intuition, bringing  it outside the sphere of "woo", and down to a practical, approachable level. She teaches us how to put intuition to work in our ordinary lives, which ironically reveals the extraordinary connection that we have with the people, experiences, and world around us.
We live in wild times, filled with a lot of uncertainty, but Kim encourages us to lean on our inner-knowing, an underutilized natural sense that is helps us perfectly steer the ships of our lives as we navigate potentially choppy waters. With so much angst, anxiety, and discord around us, it is easy to feel like a victim.
Kim Chestney reveals that we have more help built into us that we realize, and the uncanny thing is that it's been there all along.
---
---
RADICAL INTUITION
Every year, millions of people throw away countless items because they don't know how to fix them. Some products are manufactured in a way that makes it hard, if not impossible, for people to repair them themselves. This throwaway lifestyle depletes Earth's resources and adds to overflowing landfills. Now there's a better way. Repair Revolution chronicles the rise of Repair Cafes, Fixit Clinics, and other volunteer-run organizations devoted to helping consumers repair their beloved but broken items for free. Repair Revolution explores the philosophy and wisdom of repairing, as well as the Right to Repair movement. It provides inspiration and instructions for starting, staffing, and sustaining your own repair events. 
---
---
KIM CHESTNEY
Kim Chestney is the author of the internationally-published book, The Psychic Workshop: A Complete Program for Fulfilling Your Spiritual Potential.
She has touched thousands of lives by raising awareness of Intuition as a crucial element in the evolution of Consciousness. Her work is a resource and inspiration for anyone embracing the art of spiritual transformation.
Born in the United States, and educated around the globe, Kim spent much of her early life learning, traveling and exploring world perspectives. Kim holds degrees in Art, English, Philosophy, Physics, Metaphysics and Comparative Religion. In addition, she serves on several boards, holds Interfaith Ministerial Ordination, Intuitive Counseling Certification and Reiki Mastership.
After living in the United Kingdom and Toronto, Canada, Kim settled down in Pittsburgh, Pennsylvania. Kim the the founder and president of Mystic Studios, dedicated to empowering intuition and creativity as foundations for personal and cultural enrichment.
---
---
Make sure to subscribe to Find the Good News through your favorite podcast app today, or follow Find the Good News on Facebook, Twitter, and Instagram to receive regular updates!
You can help me keep the good new signal strong by becoming an Early Riser Patreon supporter.
-Brother Oran Parker