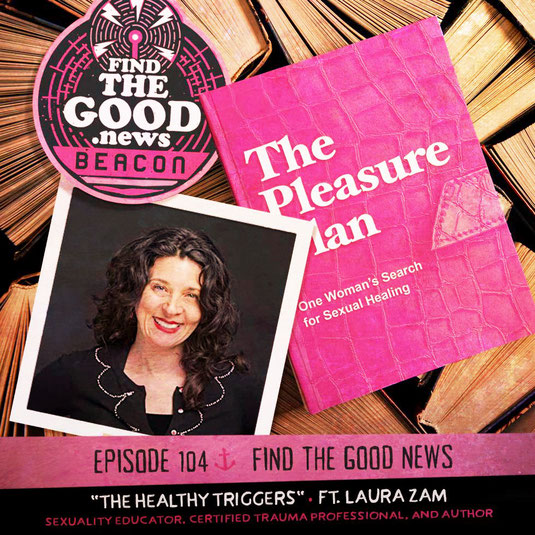 When I read Laura Zam's book, The Pleasure Plan, I could clearly see how her work with trauma and its effects on human sexuality would be of great value to me personally.
In her book, Laura opens up about her own traumatic experiences, sharing very candid details that created serious intimacy issues, not only with her partners but with herself.
If you listen to this show often, you know that I advocate exploring our inner workings, going precisely to the pain to apply healing light. Laura, it seems, approves the same course of action. By taking this path herself, she has turned what she discovered into a source of wellness, pleasure, and sexual healing for others.
Laura cuts right through the noise by saying what needs to be said, even if the subjects seem taboo, and her comfort in sharing discomfort put me at ease. In this episode, I opened up and talked about things I've never spoken of before. I believe that is because Laura created a space of listening, love, and genuine care. She understands that for people to speak freely about traumatic experiences—particularly sexual trauma—they need to know they are safe and witnessed with eyes of non-judgment.
Human beings are sexual creatures, and sex should be a source of joy and pleasure, not a fearful reminder of sorrow, shame, or pain. Thankfully, there are people in this world like Laura Zam that understand this, and more, they put themselves on personal missions to help others.
---
---
THE PLEASURE PLAN  
Based on popular essays in New York Times' Modern Love and Salon, as well as an Off-Broadway one-person play, The Pleasure Plan is a sexual healing odyssey, a manifesto for women to claim pleasure as a priority, and a love story all at once.
Fifty percent of adult women have some form of sexual difficulty at some point in their lives, preventing them from enjoying vibrant, soul-satisfying sex. Such was the case with Laura Zam, who suffered the shame and embarrassment of feeling "bedroom broken." 
For her, delving between the sheets meant physical pain, zero desire, and emotional scars from being molested in her early years. However, in her forties, after meeting and marrying the love of her life, Zam was determined to finally fix her sensual self.   
The Pleasure Plan is what happened when she decided to challenge her hopelessness. In partnership with her initially reluctant husband, Zam visited 15 healers and tried 30 pleasure-enhancing methods, including hypnosis with a bawdy therapist; Tantra with a geriatric mistress; and cutting edge workshops in desire, arousal, and orgasm. She also learned about pelvic floor mishaps, hormonal imbalances, and female erections! Amidst these adventures, the author seamlessly interweaves her recovery from child abuse, tales of her Auschwitz-surviving mother, and a clear-eyed view of how medical and mental health professionals might better serve women with sex problems. 
Packed with humor, heart, and a healthy dose of prescriptive advice, this memoir also chronicles how Zam and her husband grow, in and outside the bedroom. Her healing becomes their healing. In this #MeToo era, partners can learn from Zam's journey how to support a significant other who's been affected.
Today, Laura works as a sexuality educator, wellness coach, and speaker helping other women who suffer from sexual dysfunction, the effects of trauma, or those who would simply like more pleasure (of all kinds) in their lives. She also consults with health care providers so they may better assist their clients in achieving sexual well-being. 
The Pleasure Plan is a roadmap for sexual healing that empowers women to speak up, seek help, and take charge of their health.
---
---
LAURA ZAM 
Laura Zam is a Sexuality Educator, Certified Trauma Professional, wellness trainer, award-winning solo performer, HuffPost blogger, TEDx speaker, and workshop leader, whose work focuses on sexual healing. Her writing appears in The New York Times (Modern Love), Salon, HuffPost, SheKnows, NextTribe, the Forward, in international journals, and in five book anthologies. Her solo pieces have been performed in New York at The International Fringe Festival, The Public Theatre, the United Solo Festival (Off-Broadway), and others. National venues include The Kennedy Center, The National Theatre, and the U.S Holocaust Memorial Museum, as well theaters, conferences, schools, libraries, and universities across the U.S. and abroad. Laura has been awarded numerous grants, including a Tennessee William's Fellowship and five Artist grants from the DC Commission on the Arts and Humanities. She has also taught at a number of universities including Brown University and UC Berkeley.
---
---
Make sure to subscribe to Find the Good News through your favorite podcast app today, or follow Find the Good News on Facebook, Twitter, and Instagram to receive regular updates!
You can help me keep the good new signal strong by becoming an Early Riser Patreon supporter.
-Brother Oran Parker