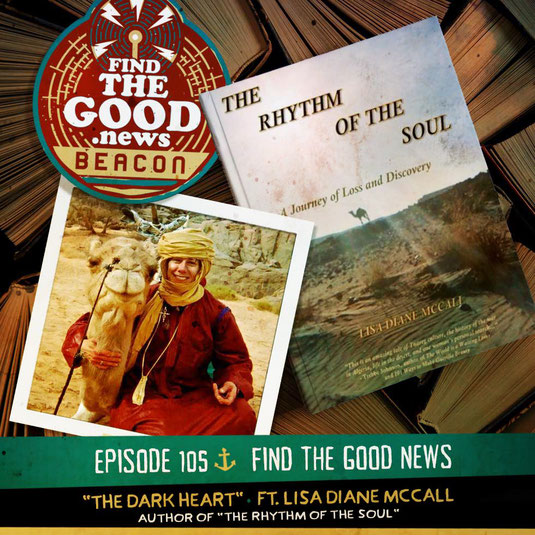 Have you ever made a decision, with no hesitation, that you knew would change your life? A choice that was so clear, so pure, that you could almost perceive the path it would lead you down? That's precisely the type of decision Lisa Diane McCall made when she decided to go on a vision quest in the Sahara Desert under the ancient and experienced guidance of the Tuareg nomads.
Lisa has shared much of the magic and life-changing mysticism she experienced in the Sahara through her book, "The Rhythm of the Soul: A Journey of Loss and Discovery," an enchanting work of vibrant fiction—existing in a unique category she has called "Magical Realism"—which is informed by Lisa's very real and transformative Saharan quests.
Lisa has tooled her personal longings and nomadic travels into good works for others, drawing on her diverse background and training in biology, anthropology, international health, vision questing, and shamanism.
I felt a quickening in my visit with Lisa, a siblinghood that I seek and deeply long to experience more often. Worlds apart, I understood how in sharing this conversational space together we might invite others to seek out and experience a quest of their own.
---
---
THE RHYTHM OF THE SOUL
In a tale of longing, Laila journeys deep into the Sahara Desert accompanied by the Tuareg nomads and her beloved camel companion, Anarani. Her quest reveals revelations and wisdom as told by the magical voices of the desert, the ceremonial shai tea, her guide, Go'at, the Tuareg, and Anarani. Her stirring adventures teach us to sink deeper into our soul and listen with the ears of our heart to live life to its fullest. The Rhythm of the Soul weaves a story steeped in cultural anthropology, Tuareg history, and magical surrealism. It delivers a rich tapestry of inner and outer journeying into the mysteries of being, mirroring what we all long for: belonging.
---
---
LISA DIANE MCCALL 
Lisa lives in Baltimore, MD. With an MHS in International Health from Johns Hopkins Bloomberg School of Public Health, she directs a study looking at people who have a history of drug addiction. She is also a Certified Life Coach. This is her first novel based on two vision quest experiences in the Sahara Desert where she was inspired by the magic of the landscape, the Tuareg nomads, and their camels. It has been her life's focus to travel many places to learn about people and their cultures. She has also focused on learning about her own inner life. Thus she wove these two explorations (inner and outer) into the story of Laila who longs to live the rhythm of her soul.
---
---
Make sure to subscribe to Find the Good News through your favorite podcast app today, or follow Find the Good News on Facebook, Twitter, and Instagram to receive regular updates!
You can help me keep the good new signal strong by becoming an Early Riser Patreon supporter.
-Brother Oran Parker