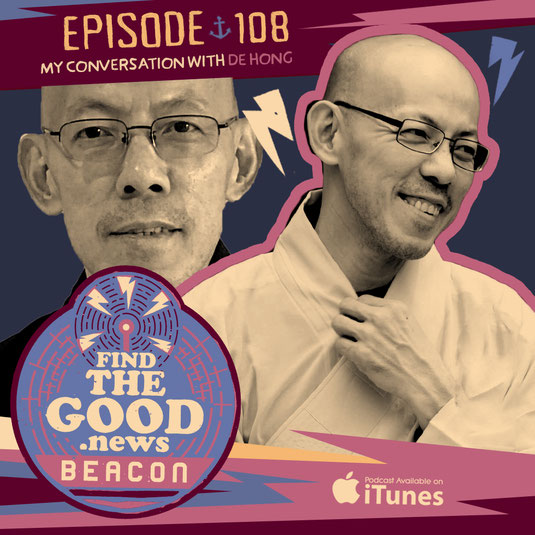 In this episode, I am honored to share my conversation with
Venerable De Hong
, the co-founder of the
Engaged Buddhist Alliance
, a Buddhist organization that works with individuals in the California prison system, helping them to cultivate mindfulness and meditation practices.
De Hong's journey from Vietnam to California is difficult to fathom as I was born with some degree of privilege. At the age of 18, escaping communist Vietnam with his younger brother, De Hong became a refugee. At the mercy of strangers, he navigated the difficulties of immigrating to the United States. With no working knowledge of English and only $10 to his name, he eventually graduated college, became a U.S. citizen, and acclimated to American life, and it is there that it seems his Dharma path began. Like many of us in the United States, he became overworked and overwhelmed, eventually finding refuge in Buddhism, the religion of this homeland, taking the ordination vows and training of a Buddhist monk.
Informed by the teachings of the Buddha, Venerable De Hong was drawn to enter the prison systems and serve those that society has deemed irredeemable. His tools are direct and simple but have had a profound impact on the lives of those he serves. De Hong feels strongly that the Dharma—the teachings of the Buddha—is a bell of mindfulness that reminds us to look directly into the suffering of the world and offer a way out of the suffering, to apply the great medicine of compassion.
With letters, books, meditation training, and the gift of presence, De Hong and the Engaged Buddhist Alliance helps turn the wheel away from unspeakable trauma, helping prisoners find their original good nature, and allowing them to begin the process of touching the world with more loving hands, hearts, and minds. One day at a time, one being at a time, the Venerable De Hong transmutes and transforms the old migratory trauma of war-torn landscapes into pure lands of joy.
---
---
VENERABLE DE HONG
Although he was already a fully ordained Buddhist monk in the Chinese and Vietnamese Pure Land traditions (2006) with Thich Truyen Nhu as preceptor, De also ordained more recently in the Burmese Theravada tradition (2014) with Sayadaw U Khippa Panno as preceptor. He was inspired to ordain in the Theravada tradition after attending two retreats at the Insight Retreat Center (IRC) in Santa Cruz with Gil Fronsdal and Andrea Fella in 2013. He felt it would help him deepen his meditation practice further.
De first started going into prisons in September of 2013. "I went to Chuckawalla for the first time, accompanied by a sponsor," De said. "When I first looked at all the razor wire on the double gates to get into the yard, it sent chills up my spine. I still try not to look at it—knowing it has electricity connected to it, thinking about how if someone touches it, they would be electrocuted.
"But inside, sitting in the circle next to the guys in the prison chapel, I had no fear at all, even though I had no clue what I was doing at first," De said. "I thought the guys were normal. They talked and acted just like anyone that I have encountered outside. So I continued (to do prison work).
"As I learned more about them—we asked them to write down how they learned about Buddhism—it was very disturbing because some of them revealed what they had done (to be in prison)," De said. "It took me a while to learn to accept that or deal with it. They were very open, honest and truthful about who they were and their pasts. That's the great thing about it. Most of them are still that way."
"The more I learn about the problems of why people commit crimes, I realize most of them have been traumatized or abused, and they don't know how to deal with it. So when I work with them, I try to help them understand their past and how to heal their wounds. To me that's what they need most. Even yesterday at Chuckawalla, I spoke with a lifer who does not know how to recognize what caused him to do what he did (his crime) in order to prepare himself for his parole board hearing. This guy is in his fifties! I spent a few minutes sharing on what he could do. I usually give them Buddhist psychology so they can understand why they did what they did and how to heal."
---
Make sure to subscribe to Find the Good News through your favorite podcast app today, or follow Find the Good News on Facebook, Twitter, and Instagram to receive regular updates!
You can help me keep the good new signal strong by becoming an Early Riser Patreon supporter.
-Brother Oran Parker