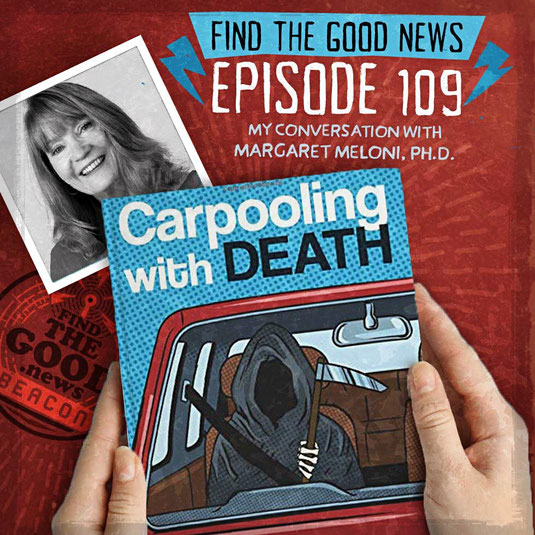 In many ways, death is a door to life unfolded, be it minutes or years. At the very least, death is a tool that can be used to appreciate every precious, life-giving drop in a half-full-glass of water. This is the door in which my guest,
Margaret Meloni
, operates.
Margaret is the host of the Death Dhamma podcast, a unique series of conversations about death from a Buddhist perspective, and the author of "Carpooling With Death: How Living With Death Will Make You Stronger, Wiser, and Fearless." Having lost many of her dearest, treasured loved ones, Margaret is no stranger to death.
Through her book and her podcast, she has created a unique space and resource of practical wisdom, perspective, and comfort for those who may be navigating the difficult terrain of grief and loss. Margaret doesn't make promises, or outline some mystical formula to follow that will remove death's painful sting, and I think that is what I found most appealing. Instead, what I found was an honest approach to looking at the sting itself, understanding that death's painful shock is normal, but ultimately it too is in the throes of the great law of impermanence, fleeting just as it arrives.
Her personal Buddhist practice provides obvious, tactile teachings that have been a great vehicle through her own experiences with life, death, and grief. She has the lovely ability to share those lessons in textured, nuanced ways, making them more approachable to those in the throes of misfortune.
It is my hope that you will find our conversation useful in your own life, but more, if you have experienced the loss of a loved one, I would encourage you to seek out her podcast and her book.
---
---
CARPOOLING WITH DEATH 
Has anyone in your inner circle died? There came a point in my life where I began to realize that the people I loved were going to start dying. My mother-in-law was in her nineties, my parents were approaching their eighties, and my husband had already outlived his father. I had already said goodbye to others. How could I handle losing the people who I loved the most? I started to think that death was stalking me. But as I learned to accept that the Grim Reaper was just doing his job, I began to accept him as part of my network. I found a way to make friends with death.
As my loved ones started to die, I knew that death is nothing personal and I opened my heart to death. So can you.
Learn to acknowledge death as a partner who makes life more poignant. Discover how to build happy memories in the face of death. Learn how to use the key teachings of the Buddha to manage your grief. Discover how other peoples attitudes about death impact their ability to support you in your time of need.
Carpooling With Death covers my journey to accept death as a part of life, the guidance I found through my Buddhist practice and the clarity I gained in understanding where to find support and how to recreate my new life.
---
---
MARGARET MELONI, Ph.D. 
Margaret Meloni is a businessperson, Buddhist practitioner and a new voice on the subject of death awareness. One day, while navigating the demands of everyday life: family, friends, work and studying for her Ph.D.; she realized that more significant challenges were coming her way.
She began to realize that the people she loved were going to die. Her mother-in-law, Lee, was in her nineties, her parents were approaching their eighties, and her husband, Ed, had already outlived his father. She had already said goodbye to others.
She began to wonder, "How can I handle losing the people I love the most?"

She knew that death would come, but was fearful that she would be unprepared. She used to tell herself that she was not afraid of her death, but did not want to be left behind by the ones she loved. She knew that she was unrealistic.
She also noticed how unrealistic many of us are about death. At ninety-five, even though she was the last one left in her family, her mother-in-law had never seriously considered her death. Her passing at ninety-eight and a half was Margaret's final wake-up call. It was time to become "death ready."
And now that she has made friends with death, her goal is to help all of us to accept death as an essential part of life.
Margaret holds a B.S. in Business Administration and an M.B.A. from California State University, Long Beach. She is currently pursuing her Ph.D. and is in the process of writing her dissertation.
She is also a certified Project Management Professional (PMP). A recipient of the University of California Los Angeles (UCLA) distinguished Instructor award, and the UC Irvine Deans' outstanding service award; Margaret is a dynamic speaker, who combines inspiration, common sense and a dash of humor.
---
---
Make sure to subscribe to Find the Good News through your favorite podcast app today, or follow Find the Good News on Facebook, Twitter, and Instagram to receive regular updates!
You can help me keep the good new signal strong by becoming an Early Riser Patreon supporter.
-Brother Oran Parker