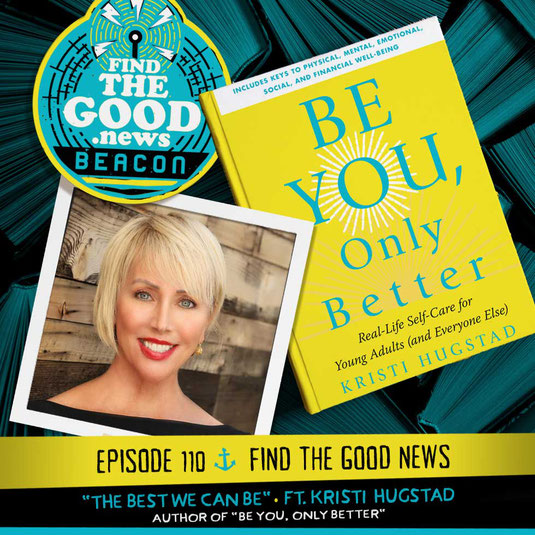 I'll be 47 years old this year, and while this book may be targeted to young adults, I found myself consuming it with shocking excitement. In this new book,
Kristi Hugstad
offers a holistic approach to prepare young people for the world their about to entire, offering useful, practical information and real-world scenarios related to the subjects of diet, sleep, money, time, mental health, exercise, gratitude, and mindfulness. It all added up to one that thing, an important thing that I find sorely lacking in the world today, and that is hope.
In our visit, I learned that Kristi is full of hope, but it has been hard-won. Early in our conversation, you will discover what I discovered
in reading her book
, that it has been in journeying through great personal loss and deep grief that she has brought forth a message of self-betterment and healing.
Even as I approach 50 years on this earth, I find that I need to encounter teachers like Kristi. She reminds me of the teachers and mentors that touched my life as a young person, and how their lessons are durable to this day. While this particular work may be for young adults, I found that I fall into the category of everyone else, and perhaps you will discover this as well.
---
BE YOU, ONLY BETTER 
Along with all the perks of becoming an adult come challenges and the need to learn skills that help you self-regulate as you venture into new experiences. Highlighting five key areas of life — physical, mental, emotional, social, and financial — Be You, Only Better offers science- and experience-backed tools and easy-to-implement techniques for success. Skill-building and self-care practices — such as journaling, getting enough sleep and exercise, embracing nature, managing time and money, and practicing gratitude, mindfulness, and optimism — are presented, and each is illustrated with the story of a real young person. These practices will help you create a resilient foundation for your powerful future. You'll discover a wonderfully accessible lifeline and a realistically inspiring guide to leading — and loving — your best possible life.
---
---
KRISTI HUGSTAD 
For all of Kristi Hugstad's adult life, she had one clear goal: to provide the highest opportunity for fitness and health to everyone who walks into her studio or gym—a feat she accomplished daily for years until an unimaginable day in October 2012 when in one tragic moment everything changed.
In the wake of epic grief, Kristi's life has found a new trajectory. She discovered a deep desire to inspire and help those in need, not just physically but emotionally, psychologically, and even spiritually. Her mission now is to reach out to those wrestling with grief and offer the opportunity to find a safe place to confront their pain and fears, to address them, change them, and ultimately move through them to a new perspective and new life. 
A lifelong athlete and fitness professional, Kristi opened the first spinning studio in Orange County, California in 1995, and has been at the forefront of nearly every major fitness evolution in Southern California ever since. She is without match the quintessential fitness and health trendsetter in OC.
A native of Minnesota, Kristi holds a master's degree in exercise physiology from Augsburg College in Minneapolis. She is a Certified Grief Recovery Specialist, trained in all forms of loss including loss of career, relationships, death, but with special emphasis on issues related to suicide. In 2014, Kristi began facilitating grief recovery workshops for groups and individual therapy. She has quickly become an in-demand public speaker about suicide prevention and grief for schools and civic groups throughout Southern California.
Kristi's writing has appeared in a number of newspapers and media outlets including The Huffington Post. She has a robust social media presence on Facebook, Instagram and Twitter, where she has more than 50,000 followers.
---
---
Make sure to subscribe to Find the Good News through your favorite podcast app today, or follow Find the Good News on Facebook, Twitter, and Instagram to receive regular updates!
You can help me keep the good new signal strong by becoming an Early Riser Patreon supporter.
-Brother Oran Parker