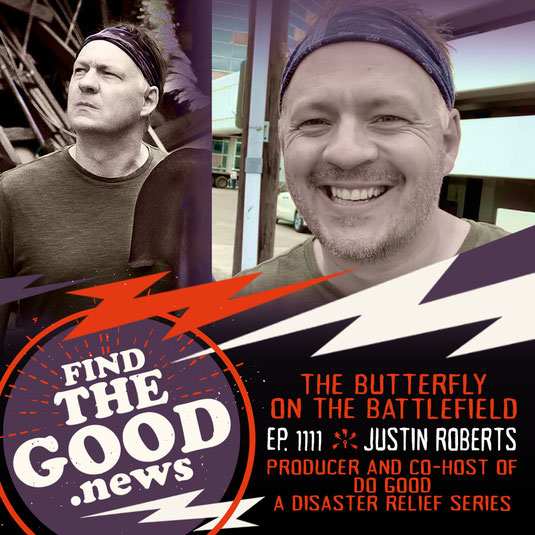 In this episode, I have the privilege of sharing my conversation with one such individual, former Army Chaplain
Justin Roberts
of Echo Bravo Productions and the co-host and producer of the web series Do Good. Do Good is a new web series focused on telling the stories of real people and real helpers who put their resources to work for the hurricane-battered citizens of the Louisiana Gulf Coast.
In our conversation, Justin shares candidly the pain and beauty of his experiences as a wartime Army Chaplain in Afghanistan and reveals how a meaningful encounter with a fellow soldier, his co-host for the Do Good series, created a durable bond that helped each find ways to find hope again, offering the veterans a clarity of purpose in a shifting culture, and open space to speak truthfully and freely about their experiences.
It was clear in our visit, and from watching the Do Good series, that Justin has found great value in connecting people to something good, something hopeful, something that reminds them of the best side of humanity. Justin goes so far as to say he has become an expert in finding hope, which he deems critical to his mental health and survival. Considering what Justin and his co-host have witnessed—a microcosm of war and despair that those of us living in safety, comfort, and abundance can barely imagine—it is an inspiration to bear witness as they use their skills to make peace and grow personally while not deleting or repressing some of the most painful experiences humans can endure.
This conversation is a timely Memorial Day reminder that there are servicemen and women, right now, living in the churn, and many won't come home. It is also a reminder that many of my fellow citizens along the battered and blue-tarp-covered Louisiana Gulf Coast are holding their breath, watching the radar, hoping and praying for a reprieve that may or may not come this hurricane season.
---
---
DO GOOD: A DISASTER RELIEF SERIES
You can help the Do Good mission by subscribing to their YouTube channel. 
---
Make sure to subscribe to Find the Good News through your favorite podcast app today, or follow Find the Good News on Facebook, Twitter, and Instagram to receive regular updates!
You can help me keep the good new signal strong by becoming an Early Riser Patreon supporter.
-Brother Oran Parker