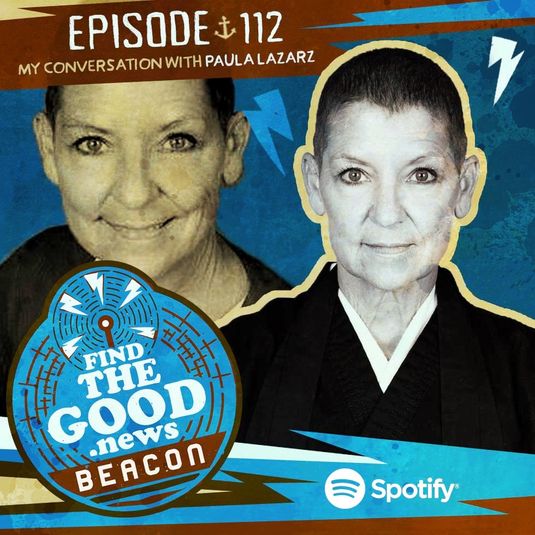 For most of my adult life, I've been looking for fixed truths, constants that can be identified over and again, no matter the unique circumstances and shifting forces in play. What I've found on this search is that the only fixed constant is that there really is no solid truth. Reality is made up of bumps, cracks, twists, and bends, and when all those nuanced layers come together we feel we've found a truth, or a way. If we sit with that perception long enough, we might be blessed to see that fixed thing dissolve or change before our very eyes.
I share this perspective because it feels very much linked to the conversation I had with Shaolin martial artist and Soto Zen Buddhist priest, Paula Lazarz. Paula Lazarz is the lead instructor of Healthkick Kung Fu in Chicago, Illinois, a school that has been teaching the traditional arts of the Shaolin Temple to children and adults for over two decades.
As someone that claims to practice Buddhism to some degree, I have been fascinated by the juxtaposition of the physicality of Shaolin Kung Fu with the seemingly docile meditation practices encouraged by most schools of Buddhism. In our conversation, Paula provides useful, grounded insight into how these two dance together.
The truth is, she helped me better understand the relationship between the two, and make peace with my personal struggles of using firmness or force situationally. I left this conversation with a better grasp on how to wield the elements of passivity within me situationally, realizing that those gentle features are not always the right tools for a given moment.
---
---
HEALTHKICK KUNG FU 
HealthKick Kung Fu was founded in April of 2000 by Master Daniel J. Lee (1964-2005).  The original school opened at 125 W. North Avenue.  Master Dan was a 5th Degree Black Sash in the Tsai Shaolin Chuan Fa system. He passed away suddenly in June of 2005.
Since that time, the HealthKick program continued in the Old Town neighborhood of Chicago under the stewardship of Master Paula Lazarz. She is a co-owner of Energy Fitness, Inc. and was a Kung Fu sister and friend to Master Dan. Her intention was to keep alive Master Dan's belief that students can achieve their full potential through the practice of Shaolin Kung Fu.
Between 2005-2010, our program expanded into the northwest side of Chicago, originally operating in Portage Park and briefly in Lincoln Square.
Between 2007 thru 2012, Master Paula and Instructors Raj Desai, Adrienne Ciancetta, Brandon Kennedy and Deven Luera studied authentic Shaolin under 34th generation Shaolin monk, Shi Yanju. In 2008 and 2010, they participated in study trips to the original Shaolin Temple in Henan, China.
The HealthKick Kung Fu program continues today at our Old Town location with a strong team of permanent Black Sash instructors. It serves as a welcome home to visiting instructors and martial arts masters who push our standards to the highest level.
---
---
PAULA LAZARZ 
Rev. Yoki Shudo Paula Lazarz is a 6th degree Black Sash in Shaolin Kung Fu and an ordained priest in the Soto Zen lineage of Shunryu Suzuki. Her over two decades of study in the martial arts and Buddhist practice has been an exploration of the idea of the historical Shaolin Temple, culminating in Warrior's Path Buddhist Academy.
Paula is a co-owner of Energy Fitness, Inc., Head Instructor at HealthKick Kung Fu and a Practice Leader at Ancient Dragon Zen Gate.
---
---
Make sure to subscribe to Find the Good News through your favorite podcast app today, or follow Find the Good News on Facebook, Twitter, and Instagram to receive regular updates!
You can help me keep the good new signal strong by becoming an Early Riser Patreon supporter.
-Brother Oran Parker