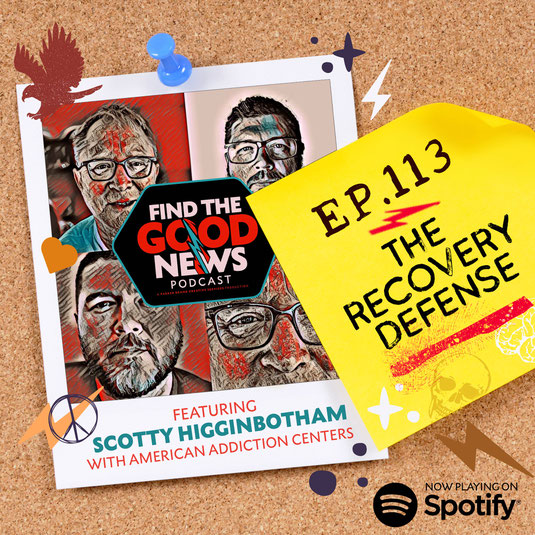 One of the great gifts that the Find the Good News podcast has given me is a platform to reconnect with people. We all meet people in our lives through businesses, groups, events, and other gatherings, and if you're like me you may never get that opportunity to connect again outside of those collectives.
Find the Good News has opened old doors and made seats at the table of conversation, and I feel lucky to have this resource to reconnect in a meaningful way. My guest in episode 113 —Scotty Higginbotham, the Business Development Outreach Coordinator for American Addiction Centers—is one of those people.
It had been almost a decade since I'd met Scotty and almost as long since we'd spoken. At first blush, his job title and professional affiliation indicated that he was the type of guest that listeners would appreciate. What I discovered in taking this conversational journey is that the path he has tread to his role with American Addiction Centers was not without his own addiction challenges and ongoing recovery practices.
What Scotty shares is honest and undiluted, a true portrait of what addiction looks like, how it affects human beings on the ground, those that love them, and the true face of those that meet our brothers and sisters, offering a hopeful hand in what is often their greatest moment of despair. He tells his story without pruning the details, leaving the thistles and thorns that sting. In my opinion, he must tell it this way so others, those he helps through his role, understand that he sees them because he has been them.
---
---
AMERICAN ADDICTION CENTERS
American Addiction Centers was founded in 2007. Since that time, we have grown into the largest network of rehab facilities nationwide, with programs in California, Florida, Texas, Nevada, Mississippi, New Jersey, and Rhode Island.
We use research-based treatments to help clients with drug addiction, alcohol addiction, and mental and behavioral health issues.
Under the guidance of our chief medical officer, our programs are made up of addiction professionals including physicians, registered nurses, licensed marriage and family therapists, social workers, psychologists, and psychiatrists.
We offer high staff-to-patient ratios to ensure more personal attention for our clients, and many of our staff are in recovery themselves—so they understand what you are going through.
Our success rate is more than double the national average, and we have been featured in Forbes, Fortune, Fox News, Daily Mail, Bustle, and USA Today.
---
---
Make sure to subscribe to Find the Good News through your favorite podcast app today, or follow Find the Good News on Facebook, Twitter, and Instagram to receive regular updates!
You can help me keep the good new signal strong by becoming an Early Riser Patreon supporter.
-Brother Oran Parker