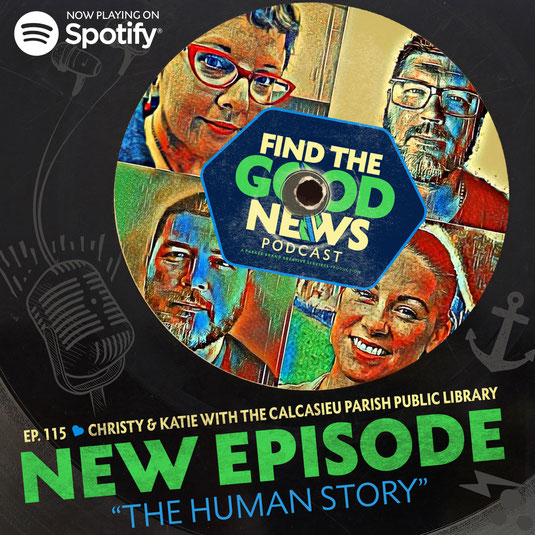 The
Calcasieu Parish Public Library
in my hometown was a refuge filled with information that nurtured my young mind. Looking back, I feel grateful, and I also realize that I was likely unappreciative of this social staple.
In this episode of Find the Good News, I had the pleasure of revisiting many of these experiences in my conversation with Calcasieu Parish Public Library Information Officer, Christy Comeaux, and Calcasieu Parish Public Library Associate II with Branch Programming, Katie Pennington-Bartlett.
This conversation put me face-to-face with the level of my ignorance related to all of the offerings and services the modern Calcasieu Parish Public Library provides. Certainly, the public library is, and will always be, a resource for those with an appetite for page-turning, but under the stewardship of passionate librarians, just like Christy and Katie, these repositories of diverse knowledge have become so much more.
The library is an ecumenical hub that provides many free resources that some citizens would not have access to otherwise. As you'll learn in this conversation, our libraries are helmed by people that do much more than point citizens in the direction of their desired content; they are staffed by human beings that serve with open minds and listening hearts.
---
---
CALCASIEU PARISH PUBLIC LIBRARY 
The Calcasieu Parish Public Library welcomes all with convenient access to high quality and innovative collections, resources, and services that enrich lives and create connections in our community.
The Calcasieu Parish Public Library celebrates diversity and opens its doors to everyone. We support, trust, and empower each other and our communities, and we share, create, and preserve their stories. Our job is to help you find information and learn about the world through reading and information resources.
---
---
---
Make sure to subscribe to Find the Good News through your favorite podcast app today, or follow Find the Good News on Facebook, Twitter, and Instagram to receive regular updates!
You can help me keep the good new signal strong by becoming an Early Riser Patreon supporter.
-Brother Oran Parker