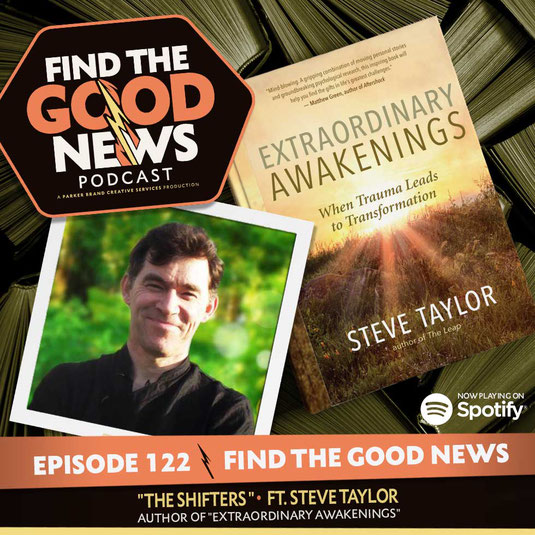 "Just like a blind man that has discovered a jewel in a heap of rubbish, likewise, by some coincidence, an awakening mind has been born within me." With this simple, powerful turn of phrase, the Indian mystic Shantideva laid claim on my heart and framed my personal awakening experience over 25 years ago.
It was a profound moment of illumination in the midst of deep personal pain and set in motion years of curious seeking, discovery, experience, and practice that has offered shelter over my life to this very day. Perhaps this was the reason I so enjoyed the new book by Steve Taylor, "Extraordinary Awakenings: When Trauma Leads to Transformation," and why I was so eager to have him visit me on "Find the Good News."
Steve's new book is a collection of potent awakening stories spanning across a wide spectrum of traumatic human experiences such as imprisonment, war, addiction, depression, tragedy, and grief. He presents the common markers exhibited by the awakened—"shifters"—on the other side of a trauma experience.
No stranger to these uncommon causes of awakening, Steve offers a view of minds-and-hearts dawning in plain view, in the shadowy-yet-lovely circumstances of human existence, and in the beautiful, bumpy, ordinary enlightened beings blooming around us in this "heap of rubbish."
---
---
EXTRAORDINARY AWAKENINGS  
Why do some people who experience the worst that life has to offer respond not by breaking down but by shifting up, into a higher-functioning, awakened state? And perhaps more importantly, how can we emulate their transformations?
In Extraordinary Awakenings: When Trauma Leads to Transformation Steve Taylor shares dozens of amazing stories of individuals who "woke up" to profound transformation following bereavement, deep depression, suicide attempts, addiction, military combat, imprisonment, or other intense encounters with mortality. Along with the amazing stories of shifters he shares throughout the book, Taylor uncovers the psychological processes that help explain these miraculous awakenings. He also highlights a number of lessons and guidelines from the experiences of shifters and offers readers hope and guidance to call on during their own struggles.
---
---
STEVE TAYLOR 
Steve Taylor is a senior lecturer in psychology at Leeds Beckett University, and the author of several best-selling books on psychology and spirituality. He is a past chair of the Transpersonal Psychology Section of the British Psychological Society. His new book is Extraordinary Awakenings: When Trauma Leads to Transformation, and his others  books include The Clear Light, Out of the Darkness, Back to Sanity, The Calm Center, The Leap and Spiritual Science. His books have been published in 20 languages, while his articles and essays have been published in over 100 academic journals, magazines and newspapers. He regularly appears in the media in the UK, and has been recently featured on Radio 4's The Moral Maze, BBC Breakfast,  Radio FiveLive and TalkRadio. He writes blog articles for Scientific American and for Psychology Today. Eckhart Tolle has described his work as 'an important contribution to the shift in consciousness which is happening on our planet at present.' Steve lives in Manchester, England, with his wife and three young children.
---
---
Make sure to subscribe to Find the Good News through your favorite podcast app today, or follow Find the Good News on Facebook, Twitter, and Instagram to receive regular updates!
You can help me keep the good new signal strong by becoming an Early Riser Patreon supporter.
-Brother Oran Parker