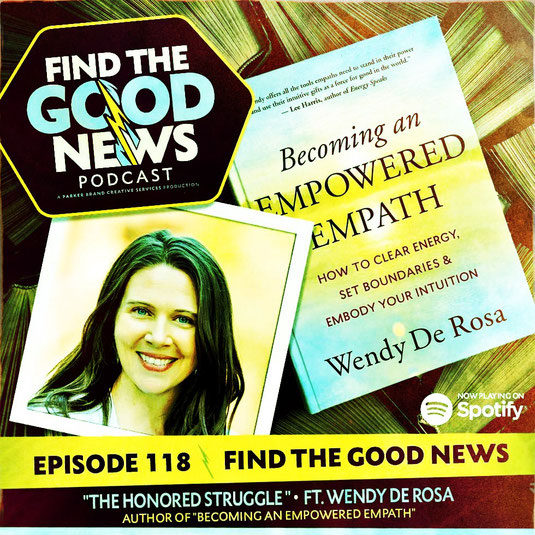 Being an empath has offered the gift of deep listening and understanding on a level akin to actually feeling what others themselves have experienced. This is a great blessing to others when one is attempting to step into the role of consoler and healer, but it can also feel like a deep ache or heaviness when the wings of an empathetic heart are stretched and burdened beyond their capacity to carry the hurt of others.
In this conversation with Wendy De Rosa, author of the new book "Becoming An Empowered Empath: How To Clear Energy, Set Boundaries & Embody Your Intuition," I for the very first time, have a guest that clearly and openly speaks about the reality of being an empath.
Wendy offers helpful perspectives and strong guidance on how to enhance day-to-day living through empathetic gifts, while not being consumed by the onslaught of feelings that are often not our own. Through her school of Intuitive Studies, Wendy assists students on their path of self-discovery through guided meditation, breathwork, and energy clearing.
Wendy offers insights that bring comfort and healing to the soul. For me, it was an opportunity to open my empathetic heart in a space of safety with an individual that didn't require an explanation of who I am or who I behave. Wendy offered the gift that I so often wish I could give, the gift of a listening ear, an understanding mind, and a loving heart.
---
BECOMING AN EMPOWERED EMPATH 
Discover how to stop taking on other people's energy and embody your unique empathic gifts…
Being overly empathic can lead to overwhelm, burn out, and chronic health issues. Personal growth work and clearing or reinforcing your chakras and auric field is not enough to shift this life-long pattern.
---
---
WENDY DE ROSA 
The force behind The School of Intuitive Studies is Wendy De Rosa, a captivating teacher in the spaces of developing intuition, intuitive energy healing, connecting to the Divine, and tapping into your chakras and energetic anatomy.
Wendy doesn't just teach you about intuition or energy healing. Instead, she leads you through experiences as you reach deep inside yourself to explore a whole new understanding of who you are.
Through her courses and programs, Wendy provides the education and loving support for you to explore your inner being, connect Divinely — and watch as your life changes.
Wendy's work is deep. You must be willing to go there, dig in, and make big, powerful and lasting shifts.
---
---
Make sure to subscribe to Find the Good News through your favorite podcast app today, or follow Find the Good News on Facebook, Twitter, and Instagram to receive regular updates!
You can help me keep the good new signal strong by becoming an Early Riser Patreon supporter.
-Brother Oran Parker