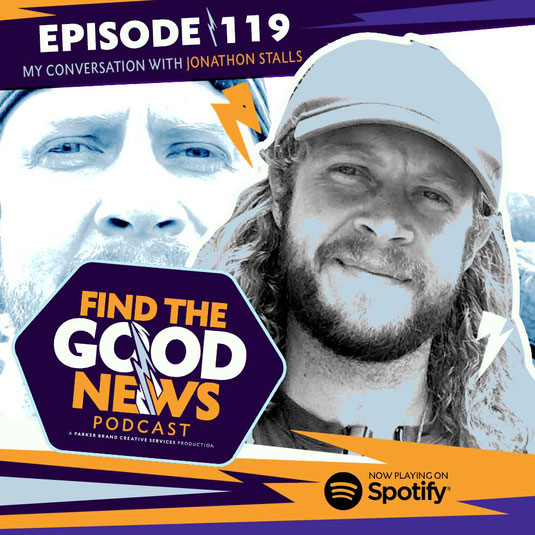 In this episode, I visit with a being who has shown up in the world with a genuineness that I deeply appreciate. My guest,
Jonathon Stalls
, is the founder of
Intrinsic Paths
, and his feet have carried him on a mission to inspire the people he encounters.
Jonathon encourages us to embrace an unhurried, meditative way of being that has the potential to heal on a very deep and personal level, in turn offering the tools required to repair the desperate fissures in this world we all share.
He did not come to this place without going through the Bardo of personal pain, which I feel largely influenced his visceral understanding of the aching his human brothers and sisters experience. By acknowledging this deep creaking in the world, he is able to fully embrace the joyous cacophony that we so often disregard in the hustle to "be someone."
This is clear in Jonathon's deep love and connection to the unabashedly beautiful and simple things to be found in nature, which take on new and profound visual meaning through his artwork and nature-craft.
Through his Pedestrian Dignity signal, he adopts a role as an advocate for our fellow beings that find themselves at the mercy of congested, poorly planned roadways and cities designed primarily for those of us with vehicles, cities, and communities that largely forget those that use their feet to carry them to school and work.
It is my reflection that Jonathon Stalls, through his life and work, is holding up a living mirror to the world. What we find in him is a shimmering beauty firmly attached to a murky pain. In that, I find a type of truth that escapes words or full understanding, but in this conversation, Jonathon and I try to put prose to this mystery.
---
---
JONATHON STALLS  
Jonathon Stalls spent 242 days walking across the United States in 2010 and has continued to walk alongside thousands of people for thousands of miles. He is an artist, social entrepreneur, advocate for social, economic and racial justice, LGBTQIA+, Creator of Intrinsic Paths, and Founder of Walk2Connect. Jonathon finished his studies at the Living School for Action and Contemplation in 2017 and has committed much of his life to inspire a connection-focused walking movement to help people deepen and heal relationship to one another, to the natural world, and to themselves.
---
---
INTRINSIC PATHS 
Intrinsic Paths is a creative journey that inspires a way of being more than it is any specific project or program. 
Through meditative practice, unhurried movement, artmaking, and relational collaboration, Intrinsic Paths aims to resemble a twisting and fragrant juniper tree. Each branch bends and reaches into the tender and courageous work of deep personal and systemic healing, facing personal and systemic injustice, and re-wiring personal and collective connection with the natural world.
Intrinsic Paths centers programming and artistic exploration through Walking Invitation, Engaged Contemplation, Pedestrian Dignity, and Movement Building.
---
---
Make sure to subscribe to Find the Good News through your favorite podcast app today, or follow Find the Good News on Facebook, Twitter, and Instagram to receive regular updates!
You can help me keep the good new signal strong by becoming an Early Riser Patreon supporter.
-Brother Oran Parker