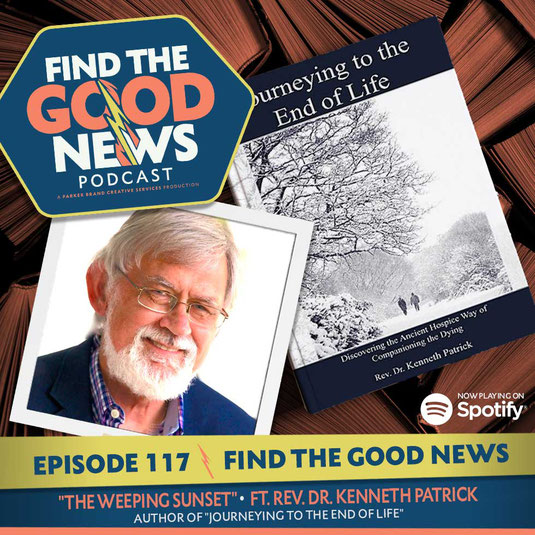 My guest in this episode, Reverend Doctor Kenneth Patrick, an ordained Methodist Minister, gave me the great gift of his time. 
Kenneth is the author of the book "Journeying to the End of Life," and in it he presents what he calls the "Ancient Hospice Way" of being a true companion and servant to the dying.
In our conversation, Kenneth reveals that at a young age he made a type of pact with himself, that he would serve where people were suffering the most. You will discover, as I did, that he has spent his whole life doing that very thing.
Kenneth advocates moving outside our comfort bubbles and into situations that require work, work that effectively changes the world in a real and tangible way so that it can truly meet and help others where they are.
As an Army Chaplain, Kenneth brought solace and comfort to soldiers. As a compassionate social activist, he has hiked the Appalachian Trail solo—that's over 2,100 miles—to raise enough money to help the RAM house, a day shelter for the homeless in Virginia, an endeavor that has helped over 5,000 people, serving over 41,000 meals.
All the experiences of his life have lead to his current passion, providing compassionate companionship and care to those facing the end of their lives, considering this to be the most vital social issue of our age. The hospice method that he presents brings patients, families, healthcare professionals, and faith communities together in unison to reduce the layers of suffering that occur during the sunset of life, outlining training and resources so human beings can die at home, with dignity, well cared for, surrounded by those they love.
---
JOURNEYING TO THE END OF LIFE 
How do you want the natural journey of life on earth to end for you and your loved ones?  Do you want a "Beautiful Death", where life draws to close with dignity and a sense of blessedness?  Do you want pain managed to the full extent medical science makes possible?  Do you want life to end in a place that is safe and comfortable, surrounded by those held dear in the heart?  Is it important to remain a vital person, connected to family and friends, and involved in their lives until the end?
Journeying to the End of Life explores how a Beautiful Death can take place for 78 million Baby Boomers. It shares for the first time, the spiritual wisdom of companioning the dying that has been a part of the Western hospice tradition for over 1,500 years.
Drawing on this ancient wisdom, a bold new vision is presented of how we may companion millions of Americans in body, heart, and soul at the end of life.  It challenges our nation to a more compassionate way of caring for those in their final days, and speaks prophetically of the social changes required of our country to allow death at home to become the natural way life ends.
Journeying calls for a new end of life Medicare benefit, so that it becomes financially practical for millions to die at home, companioned by loved ones. It also speaks of how modern technology can be applied to end of life care, enabling the dying to be safe and connected to others.  It further shares the need for faith.
---
---
REV. DR. KENNETH PATRICK 
Ken Patrick, Master of Divinity, Doctor of Ministry, and graduate of The Shalem Institute for Spiritual Formation as well as the U.S. Army Chaplain School, is a spiritual teacher and compassionate social activist. He has devoted his life to providing hospitality and companioning for those in need.
He is currently a hospice chaplain and parish minister.  Ken has hiked the Appalachian Trail solo over 2, 139 miles to help open the RAM House, a day shelter for the homeless in Roanoke, Virginia.  In 2007, the shelter provided emergency financial aid to 5, 141 people and served 41,346 nutritious midday meals.  The thru hike resulted in the privately published book, Mountain Meditations, My Walk With Christ on the Appalachian Trail (available through www.xlibris.com).
Ken has extensive knowledge of spiritual traditions, both East and West. He is a graduate of Kubasaki High School, Okinawa.  He has also done graduate study at New College, The University of Edinburgh, Scotland.
Ken  is available to design a workshop or offer a talk to meet the specific needs of your group or organization. You may contact him through his website: www.thehospiceway.com. Ken would love to hear from you.
Blessing on your journey to the end of life.  May the depth and wonder of life unfold for you on this path.
---
---
Make sure to subscribe to Find the Good News through your favorite podcast app today, or follow Find the Good News on Facebook, Twitter, and Instagram to receive regular updates!
You can help me keep the good new signal strong by becoming an Early Riser Patreon supporter.
-Brother Oran Parker