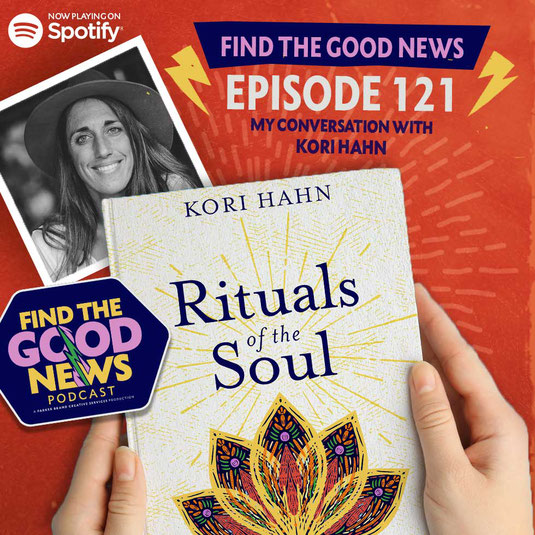 Have you ever had to reinvent yourself, to start again? Did you find that there was a process of letting go, of unlearning, as you started to embrace the changes that came with your rebirth?
Sometimes, it's difficult to use the pieces of our existing life as the compost for new growth, and it can often seem haphazard and clumsy, but with a fair amount of right effort and right attention, plus some helpful advice and guidance along the way, it is possible to build something new, whole, and more familiar and comfortable than we'd likely imagined possible.
In the episode of Find the Good News, I visit with Kori Hahn, author of the new book "Rituals of the Soul: Using the 8 Principles of Yoga to Create a Modern & Meaningful Life," published by New World Library.
In her book and through our conversation, Kori shares the textured and rich accounts of her own journey while imparting important Yogic wisdom in a digestible and engaging format I'd not yet experienced.
What I found in Kori was someone who has searched for meaning and found it—even in the face of great personal loss—reborn with a passionate personal calling to help others find, cultivate, and embrace the sacred rituals evident in their own lives. Where they do not seem to exist, she shows how to create them, then lovingly encourages us to do so.
---
---
RITUALS OF THE SOUL 
Kori Hahn has always done life her way -- living off the grid as a young woman in Alaska; studying with spiritual teachers and soul guides in Mexico, Sri Lanka, and Morocco; surfing around the world. Yet her primary, perennial quest has been an inner one. To that end, she evolved the practices she shares in this book, simple daily steps grounded in sacred yogic texts that will help you live your life your way, with maximum meaning and joy.
Timeless principles of awareness, intuition, self-knowledge, and manifestation become contemporary practices incorporating visualization, breath work, journaling affirmations, and meditation. These habits of being grow the soul, enable our bravest and best selves, and, as Hahn shows, can take you wherever you most want to be.
---
---
KORI HAHN 
When I was 20 years old, with a trunk full of belongings I drove north nonstop for 7 days.  I fell in love with Alaska the moment my feet rolled to a stop.  Living off-the-grid, hauling water, chopping firewood, and gathering my own food bootcamped me into a more mindful way of living. The 12 years I spent there taught me a lot about slowing down and taking deeper, slower breaths.
For the past 15 years, I have traveled extensively, always with a wide-eyed curiosity to know how the world sees spirituality. My spiritual curiosity led me from Mexico to Tibet to Japan. While traveling, I found my spiritual teachers and soul guides.
I started Santosha Society because I yeared for a community to share all things soulful and surfy. In the first few years of "business," we (myself and friends) hosted over twenty soul-nurturing trips around the world to the most inspiring of humans.
Nowadays, I am focused on helping others heal the nervous system – the anxiety, stress and overwhelm- so you can see clearly what your intuition is saying to you.
Let's be honest, many of us are experiencing the effects of post-traumatic stress and long-term general anxiety in our lives more than ever.  As a general diagnosis of society, I believe most of us (myself included) need a thick calming meditation balm to heal our overworked nervous system.  The meditations I am creating are curated to do just this – relax and heal you- from the inside out.
Sometimes we all need gentle, compassionate, guidance to shift your perspective in a more peaceful direction. I hope my meditations do this for you, this is their greatest intention.
Thank you for being here.
---
---
Make sure to subscribe to Find the Good News through your favorite podcast app today, or follow Find the Good News on Facebook, Twitter, and Instagram to receive regular updates!
You can help me keep the good new signal strong by becoming an Early Riser Patreon supporter.
-Brother Oran Parker